Actor/Comedian/Writer/Director
Writer/Director/Filmmaker with 30 years of experience, won 6 Awards short film & 7 script Awards from Film Festivals. Credits on IMDB link: http://www.imdb.com/name/nm0155341/
Won  Award 
Best Supporting Actor from Asian on Film Festival:

performed over 1,000 Comedy Shows, 5 feature length Movies and 9 TV shows and with over 38 TV commercials.
Was on CBS sitcom "The Millers", 2 episodes on FOX TV "Rake", In Nickelodeon "ICarly", 2 episodes of "Weeds" season 7 on Showtime, 2 episodes of FOX "24" action TV show, and appeared on NBC "The Event"
An Actor in movies includes "50 First Dates" with Adam Sandler.
Peter was a regular comedian at the Improv, ths Comedy Store, the Ice House and the Laugh Factory.

A very talented Writer/Director, a very convincing comedic and dramatic Actor and always funny Comedian and Actor
Award winning script, an Action Comedy feature film called



"Saving Face" a true Documentary
A true Story which took 15 years to make. Peter Chen is an Award winning Film maker number one two years in a row (2000/2001) in a Film Festival: Documentary Catagory.
Click the picture to the left to view the True Documentary Film.
Tai Chi Instructions by Peter Chen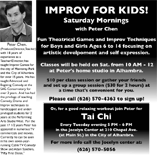 Tai Chi is the Chinese way to a healthier and longer life, Tai Chi has been practiced over a 3000 years and has evolved into different styles.
Tai Chi is the path to health and wellness.
Tai Chi is one of the most effective way to develop balanced body and mind.
Improves overall Body Health, Circulations, Flexibility, and Calmness of Mind !
Improves Muscle Tone, Strength, Co-ordination, Balance, and Agility !
Promotes Self Relaxation and Relieves Stress !
For those who wish to be healthier and live longer? Come for Tai Chi Class.
Tai Chi is also a soft martial art, a very powerful form of self-defense.